PROLOGUE:
I would like to start by saying that making my goals for 2017 known is a scary thing. It's hard to tell people that you just dgaf what they think and you're gonna do you no matter what. But here's the thing-I NEED this. For myself. For my well being. For my health.
This is my way of keeping myself accountable and how I'm both acknowledging the problem and following through. I have other goals relating to my marriage, my animals and my family, but there's one all-encompassing one that you bet I'm ambitious about.
GOAL:
LOSE WEIGHT. That's it, k byyyye.
Just kidding. It's a big one y'all. As I've said in previous posts, I've already done this shit before. I've lost close to 80 pounds when I was around 21 years old. It took me under a year! And I was able to keep it off for around 3 years after. The dreaded weight gain started when Josh and I became serious. Eating was an activity with us and we went out a lot, ordered in, etc. It was and IS what we do for fun. I'm also an emotional eater, which when I started to realize my depression, it was all downhill from there. I'm now currently the same weight if not bigger than I was when I originally started. And it's embarrassing. My family saw me gradually decline and same with my Husband. It hurts to see the looks on their faces when I don't want to be in pictures or go out because of how big I feel. I'm tired of it, really. It's not enough to just say I'm going to do something. I'm finally doing something to change it!
Below I'm listing my 5 Tools for Losing weight in 2017:
My Vlogging Camera
My husband got me this for Christmas. I was so excited to receive it because I've always wanted to Vlog my life. I feel like I've got a lot to say and I do a lot of fun and interesting things, so I thought why not? When I started getting overweight again I didn't feel comfortable being in front of a camera. To hell with that, though! I have decided to use this to my advantage. I have currently started vlogging my weight loss journey! It's going to be a long, bumpy road for sure, but I'm going to Vlog myself going through those! Because what I think is missing from the YouTube community is honesty. Most of the time lifestyle vloggers only record the cool stuff, or the "pretty" side of life. I want to show ups and downs and missteps and make myself accountable. Here's how I'm doing it? And you know what? My first Weekly Vlog will be up this Sunday!
My new, GINORMOUS Nalgene Water Bottle:
The most IMPORTANT part of staying healthy is DRINKING WATER. Feeling hungry and snacky when you just ate? Drink water. Feeling Bloat? Drink water. With lemon. Trust me, when I was losing weight the first time I got it DRILLED into my head how important drinking water is. There's even tons of recipes and helpful links for detox water to help with bloat as well. One of my favorites is Jillian Michael's Anti-bloat Water Recipe. It really helps reduce water weight! I got a 48 OZ Nalgene Water Bottle at Target in PINK because, obviously. But so far it's made it really easy for me to keep up with my water intake. Also-I'm from Colorado and when you live here if you don't have a Nalgene then there's something wrong with you. So I finally got mine!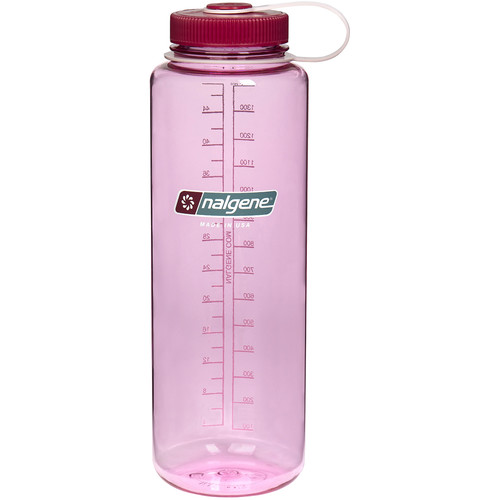 3. A Planner
I asked for this planner for Christmas. It's a glorious shop.bando Planner I was able to find on Amazon. If any of you are looking for really fun, really spacious planners-this one is for you. It comes with stickers and fun messages–I'm having a blast with it. So far I've kept up with almost everything in the planner-appointments, scheduling work-outs and the like. I'd like to get more into planning dinners but that'll have to be when I have more time on my hands! I'd highly recommend getting a planner to keep up with fitness. I've also decided one of my newest goals is to sign up for 1 5K every month! I've started to plan these in advance-so far I've found one for every month leading up to May. So far I've decided to stick to Running and Cycling for exercise– and this planner keeps it on track!
4. New Running Shoes
I also asked for these shoes for Christmas! How beautiful are they? I'm under the firm belief that new running shoes really prompt you to actually work out. And new workout clothes too-which I just spent over $100 on the other day. Hey–whatever keeps you motivated amirite? So far they haven't accompanied me on any running journeys, but I've worn them around and they have been very fun! I'm hoping to start running shortly, but so far it's been cold, miserable and dark outside. To the gym it is!
5. MyFitnessPal
If you've never used this app, then you should. It's honestly amazing. It was one of the number 1 things that helped me lose weight when I was doing it 5 years ago! You log your information and then save the diary for the day. It tells you how many calories you're supposed to eat in a day due to your weight loss goal, and it lets you tailor it to your liking. What's awesome is since 2011 they've upped the calorie intake for a normal human being's eating habits. It used to say I was supposed to only eat 1,200 calories in a day while I was working out to lose weight. Now it's a lot more realistic. Currently my intake is supposed to be 1680! In any sense, it's a wonderful app great for keeping you on track. One of my favorite weight loss tools!
So far, I've meal prepped, logged meals and gone to a Cycling class which I am more than definitely hurting from. I'm using all of these tools plus a few more, and I'm hoping armed with as much help as I've given myself, I can do this again! Here's to 2017!